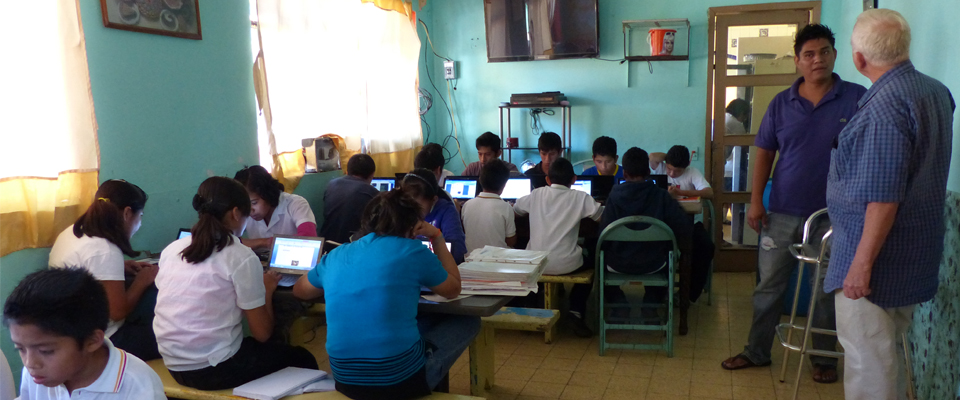 JUNTOS!, is a Canadian charitable organization offering educational opportunities to poor communities in and around Cuernavaca, Mexico. Cuernavaca is a city of about one million inhabitants located 70 kilometers south-west of Mexico City. Like many cities in Mexico, the population has grown dramatically. Farming families whose crops no longer provide sufficient income migrate to the cities hoping to find work. They live in communities that are incredibly poor often lacking basic services such as running water and drinking water. Many live in dirt-floor shacks. Few have regular employment.
The public schools in poor communities lack libraries, school supplies, books, computers and individual attention for struggling students. Many children, discouraged, drop out of school before they are 10 years old. Bill Graham and his wife, Claudia Bierman, retired in 1998 and now spend five months of the year in Cuernavaca. In 2001 they started a charitable organization now called JUNTOS! (Spanish for together) dedicated to providing after school programs to encourage students to stay in school and acquire skills necessary to find employment. Now curious minds, enthusiastic learners, young adolescents help each other acquire knowledge at the JUNTOS! mobile learning centres. Over 400 students attend twice weekly sessions available at 9 different locations staffed by our superb facilitators and equipped with 50 laptop computers and high speed internet. JUNTOS! has created many projects which challenge and aid the learning experience. Students learn oral and written communication skills, research and complete school projects and publish thematic blogs and videos. Each student works at his or her own speed and becomes familiar with productivity tools, search techniques and the many services available to their community. The students have a thirst for knowledge and a desire to work together to reach their potential in life and create a brighter future for all.
Since the project began over 12 years ago we have witnessed many firsts:
the first students to attend senior high in their community

the first students to enter university

the first students to find full time employment in the formal economy
thanks to their computer training, specialized skills and confidence resulting from their hard work.
JUNTOS! has a staff of six highly motivated Mexicans tutors. All have been hired from the communities in which the projects operate. Three are graduates of the JUNTOS! educational program. Aside from being great teachers they also are wonderful role models for their community.
Bill Graham (engineering physics, 1960) and Garry Gale (mechanical engineering, 1960) reconnected in early 2012 after Garry noticed Bill's name in the Queens's Alumni Review. Garry with his wife, Heather, visited Bill and the projects in Cuernavaca, photographed the children and immediately became a major financial contributor. This has allowed the projects to expand and more children and some adults are furthering their education and finding full time employment thanks to the program.
Currently 9 communities benefit by the JUNTOS! learning experience. In 2014 JUNTOS! was approached by 30 ayudantes (community mayors) asking for the JUNTOS! mobile learning program to be brought to their communities (cost per community for one year - $7000).